Accounting Firm in Centerville, OH
Skelley & Company CPAs is a local accounting firm located in Centerville, OH and serving individuals and businesses throughout the Greater Dayton Area and Southwestern Ohio. We provide all of our clients with the unique, specific accounting services they need, including taxes, financial statement preparation and general accounting, as well as consulting services for mergers and acquisitions, startups and pension funds. As trained and licensed tax accountants, let us provide you with the financial acumen you need to feel comfortable with your financial and tax position.
Get Certified Public Accountants Working for You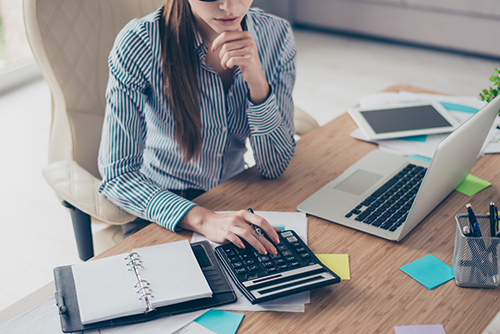 Monitoring your business' financial position isn't a job just anyone can do. Financial stability and future success comes from using the services of a qualified business accountant. If you don't have the budget to hire a controller or the wherewithal to evaluate your own finances in situations that call for it, let Skelley & Company CPAs assist you. Our abilities are extensive and always tailored around the needs of our clients. From accounting for new business startups, to existing privately-held companies, to global subsidiaries, count on us to help you keep your business in a position of financial strength.
As your certified public accountant located in Centerville, OH, we'll lend our decades of experience to any situation that demands it. Call on us for a business consultation to look at mergers and acquisitions, pension plan audits and more, including your balance sheet before major business initiatives. For small businesses of just a few employees, we work hard to get you up and running on stable financial footing, including assistance with payroll services and QuickBooks setup. We aim to give you the tools and resources you need for your ongoing success. And it's not just businesses, either! We welcome individuals who want to evaluate their tax position and liabilities. Contact our firm today and learn more about our abilities. We promise you'll quickly see why we're the trusted CPA for so many of the region's successful businesses!

Our business accountants have more than 50 years of combined CPA experience on staff, with abilities that span a wide range of business needs.

Some of our specialties include preparation of compiled, reviewed and audited financial statements, M&A consultation, business startups, work with out-of-country subsidiaries, pension plan audits and more.

We're well-versed in QuickBooks and can assist your business in setting up this software or recommend a viable alternative, including Peachtree.

Our certified public accountants are proud members of the local Chamber of Commerce, Ohio Society of CPAs, and American Institute of CPAs.

We tailor our services around the unique and specific needs of each of our clients and utilize GAAP practices or other basis of accounting for your best result.
Expert Fiscal Oversight from Trusted International Accountants
Put your business on stable financial ground and trust the experts at Skelley & Company CPAs with your accounting needs. From evaluation of your tax preparations to financial statement preparation and consulting services we're ready to help.
Providing Accounting and Business Consulting Services to Clients in the Greater Dayton, OH Area Including:
Centerville, OH
Kettering, OH
Centerville, OH
Springboro, OH
Franklin, OH
Spring Valley, OH
Montgomery County, OH
Greene County, OH